Comments and Reviews
If you've stayed with us please leave a review below or on Google. Thanks.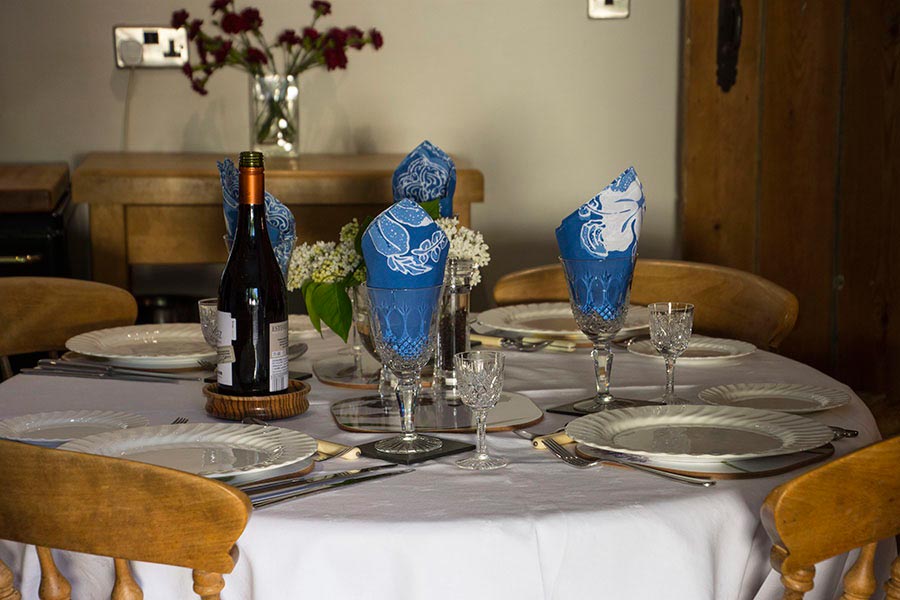 Dining at The Square
25
reviews
Highly, highly recommended.
Robin - Caterham
July 2023
"We've just returned from a wonderful week in Derbyshire, staying at The Square. This is a fabulous little cottage with a really warm and homely feel to it - not just due to the fantastic Rayburn at the heart of the kitchen - but because it's so beautifully furnished and equipped from top to bottom. The beds are large and comfortable, with top quality linens. The sofas and armchairs are new and upholstered with lovely, matching fabrics. The crockery is Royal Worcester. etc. etc. all of the things you'd hope for to make you feel valued and pampered during your stay. The village is beautiful too, pretty stone cottages with immaculate front gardens, a village green beside the pretty church. And the hub of this great little community is a great little pub - The Sycamore - which does extremely good food at surprisingly reasonable prices. We ate there on our first night and went back a number of times during our stay. Victor was there to meet and greet us when we arrived, he was extremely welcoming and was happy to share his local knowledge to help us get the most out of our stay. Highly, highly recommended!"
This is a lovely place to stay.
Catherine - Bristol
May 2023
"This is a lovely place to stay - ideally located for some beautiful walks and in a very attractive and friendly village. We were welcomed by Vic who was really helpful in recommending walks and we were very appreciative of the welcome pack. Very comfortable bed and bedding and everything to make your stay a happy one. Our dog was made very welcome too."
The most perfect cottage.
Fiona - Hampshire/Warwickshire
May 2023
"The most perfect cottage in a beautiful village . Very comfortable accommodation and charming hosts. Off the beaten track, so quiet except for bird song. The local pub is convivial and the food delicious. A great base from which to explore many and various historical and scenic locations. You will have no choice but to relax and enjoy the delights of the Peak District without a doubt."
This cottage was so warm and comfortable.
Jenny - Oxford
April 2022
"This cottage was so warm and comfortable it felt like home and not a holiday let. The furnishings and particularly the beds are of the highest standard. Lots of books and CDs were appreciated. It was lovely to be greeted by Vic to show us around. The location was perfect."
A lovely cottage in a beautiful village.
Andy - Henley in Arden
April 2022
"This is a lovely cottage in a beautiful village with outstanding pub food and walks nearby.The hostess, Susan, was extremely helpful and organised and even supplied a pot of her own honey. The cottage is furnished and decorated to a high standard. A perfect break!"
Another great stay in The Square.
Jessica - London
April 2022
"We had another great stay at the Square this Easter, after our visit last summer. Once again we were very well looked after by the lovely hosts Victor and Sue and so enjoyed their honey, and what with this and the fresh bread, eggs and milk it was another very warm welcome. Our twins (11) loved to play in the rooms upstairs, and also in the garden across the road. When Victor and Sue heard it was the twins' birthdays they even dropped off a birthday card and present which was so thoughtful. The Square again proved a great base for lovely ventures out, to Chatsworth of course, to Bolsover Castle this time too which we loved, a walk out to Minninglow via the quarry - bunnies hopping about on the hill above - plus we revisited our new favourite walk from Ilam to the Dove Dale stepping stones. Such a lovely base for all these and more. We will no doubt be back for more! "
A wonderful stay in The Square.
Steve - Shrewsbury
February 2022
"Had a wonderful stay in The Square, despite hitting the week with three storms and plenty of rain. Victor was so welcoming on arrival and Sue so helpful with communications. The cottage was just ideal for all our needs with real antique feel lounge , so cosy with wood burner, and a second lounge area on top floor. Beds so comfortable. Really appreciated the welcome pack with few basics plus lovely honey and a bottle of wine. Very accommodating with flexible time of arrival and departure. We really hope to return but next time in summer months to enjoy the garden and Parwich in the sun."
A delightful, comfortable house.
Annie - Ledbury
September 2021
"A delightful, comfortable house, very well equipped and perfectly situated for terrific walks (required by young Labrador) along the trails. A really good selection of books in every room, exceptional furniture (superior to most holiday cottages), quality Wentworth jigsaws. Splendid welcome from Vic. Good info, village pub with convenient shop inside. Loads to do nearby (Tissington, Dovedale, Minninglow, Hardwick Hall, Keddleston, Chatsworth a little further away, Haddon Hall, Calke Abbey). We are going back!"
Wonderful cottage
Alison - Windsor
September 2021
"This is a wonderful cottage to relax and unwind in well curated comfort. The stunning walks, market towns and stately homes of the Peak district are just on your door step or a short trip on the amazingly empty and fun to drive twisty roads. We also need to mention and thank our host Vic, for the warm welcome and top local tips for a gastronomic 5 days. We thoroughly recommend the village pub, The Sycamore, for great food and friendly chat with the locals. Superb!"
Wonderful 10 days
Jessica - London
August 2021
"We have just spent a wonderful 10 days at The Square. Sue gave us a lovely welcome, and left fresh delicious local eggs, milk, bread and honey for our first morning. We loved the big sunny West facing windows, the comfy beds, the games room full of things to keep us entertained on rainy days. We made lovely toasty fires on the wood burner and the Rayburn aga-type cooker was easy to use too. There is a good stock of maps and walks above the fridge, so we had lovely ventures on the Tissington Trail, in Dove Dale and in the local surrounds. We are very much looking forward to our next visit!"
Fabulous House
Andrew - Pulborough
July 2021
"What a fabulous house, everything you could ask for set in a beautiful village. Would highly recommend and Sue was a great host."
What a find
Kiran - Harpenden
May 2021
"What a find, I am almost tempted not to review in case the word gets out! Parwich is surely one of the prettiest villages in the Peaks. The Square overlooks a delightful bluebell public wood, and a private garden. Sue and Victor were amazing hosts, settling us in, and some lovely local free range eggs and groceries to great you. Particular thanks for posting back our forgotten goods. Oops and thank you!"
Beautiful cottage
Rhona and Robert - East Sussex
September 2020
"We loved this cottage so much we lengthened our stay and were so pleased that Sue and Victor could accommodate us. A beautiful cottage full of charm and character fully equipped for our ten nights. Lovely furniture, a great selection of books and a marvellous DVD collection. The front courtyard was larger than anticipated and to watch the sun go down whilst sitting with a glass of wine in hand at the end of the day was therapeutic. The garden another bonus. The complimentary honey from the owners own hive was delicious and we ordered many. Great location. Great local pub. We will return!"
The house is the best
Vivienne - London
August 2019
"The house is the best of Sawday's selection - so pretty, full of charm and character combined with great practical touches, particularly in the kitchen. Sue is a lovely host who greeted us personally and ensured we were comfortable with the house and the Aga. Our family of four really liked the locations as it was close to a pub/shop so we didn't have to cook all the time; and close to walks. Thoroughly recommended!"
Wonderful week
Wendy - Oakhampton
May 2019
"We had a wonderful week staying at The Square. Lovely warm welcome from the owners who showed us around their beautiful house. The welcome hamper was very much appreciated especially the local honey which we bought two further pots of for when we got home. The house was perfect, the village absolutely stunning and the local area devine."
Wonderful weekend
Matthew - London
May 2019
"Thanks for a wonderful weekend. Lovely walking along Dove dale return to Parwich to a local pub with great food and back home to one of the most comfortable Cottages I have stayed in. All this and local honey and French wine waiting for us on arrival. Just perfect. I'll be back for fly fishing lessons on the Dove and maybe to enjoy the well dressing festivities at the end of May. Thank you."
Wonderful stay
Rob and Susan - The Netherlands
April 2019
"We are on our way early tomorrow, train to meet the other side of the country. We've had a wonderful stay. Relaxing spacious cottage, peaceful village with walks all round and a beautiful part of Derbyshire new to us. We will be back."
Charmingly restored cottage
Ian - Lichfield
August 2018
"Parwich seems a World away from the hubbub and bustle of modern life. Nestled in the valley a couple of miles from major roads, it makes an excellent base for walking or cycling in the South Peaks. The Square is a charmingly restored cottage a short walk from the village centre and contains a treasure trove of antique furniture, fine china and well appointed equipment providing all you could need for your stay. Sue's welcome pack of wine and local produce was most welcome as was her flexibility with arrival and departure times and clear prompt communication; highly recommended!"
Wonderful weekend
Isabel - Nottingham
June 2018
"Thank you for a wonderful weekend in your lovely and well appointed cottage. This is special place, with its oak beams, fine furniture, art work, books, antique rugs, Harrods beds, luxurious sheets, cosy wood burner, and even a Rayburn making the cottage perfect for hot summer days, cool evenings and winter getaways alike. With eggs and honey from the owners chickens and bees for breakfast, and the fresh air and sound of birdsong flowing in through the lovely stone mullioned windows, this is a place to enjoy life in the delightful village of Parwich and the stunning Derbyshire dales."
A treat of a cottage
Samantha - Worcestershire
April 2018
"What a treat of a cottage in such a beautiful village. A generous welcome and accommodation that catered for our every need. The bathroom was so much nicer than we had expected; warm, tastefully decorated and piping hot baths. Only rain prevented us from enjoying the delightful garden. Maybe we need another visit"
Fabulous holiday cottage
Mark - Leominster
October 2017
"This a fabulous holiday cottage in a very pretty village close to good pubs and walking ...what more do you need ? This is a holiday cottage with all the touches of a Sawday's B&B."
Gorgeous cottage
Lucy - Sheffield
October 2017
"A gorgeous cottage in a stunning location. The house is so well stocked and homely. Great local tips in the house folder. Had a lovely walk from our door step. Thank you for a lovely weekend."
Very enjoyable stay
Peter - Fakenham
September 2017
"We had a very enjoyable stay at the Square - very lovely, comfortable well equipped cottage in a very pretty Derbyshire village with a very good pub - what more could you want? Ideally placed for lovely walks with the dog and visiting Derbyshire villages and the Peaks.
Thank you Sue and Victor for making our stay so enjoyable."
Very comforable
Gareth - London
August 2017
"The Square was a great find for our 5 night stay in the welcoming community of Parwich.. The cottage was very comfortable. The two main bedrooms being very roomy. The kitchen was well appointed and if you enjoy cooking, you were not short of applicances. We loved sitting in the courtyard in the morning and afternoon and made use of the garden across the road. We appreciated the garage to store our bikes. There were lots of stunning walks from the cottage and great pubs nearby. Sue and Victor were very helpful and welcoming. We enjoyed meeting them."
Great place to stay
Bruce - Lincs
July 2017
"What a great place to stay, Sue and Victors' house is one of the best places that we have ever stayed in, the facilities that they have to offer are amazing with the quality of all that is in the house being excellent. The meal that Sue cooked for us was top notch as well. We were really comfortable and enjoyed every minute of it. The inhabitants of Parwich were so friendly and although we were only there for three nights it was as if we had been there for so much longer. With great countryside on your door step this all made for a really great stay. Top marks."
All the comforts
Julie - Uttoxeter
June 2017
"Lovely surprise weekend for my birthday. We love Derbyshire. And the dog came too! This place is home from home. Parwich is a friendly place and the home is bang in the middle of the village. I loved the stone and the comfort. Squashy chairs and comfy beds. Bit of an Aga fan so the rayburn was great and welcoming. All the comforts are there to be enjoyed and Sue and Victor, our hosts, made us very welcome . Nothing was forgotten including some honey from Victor's bees! Its the kind of place where you wish you could live. And Barbara my little dog loved the Rayburn."
Leave a Review