Welcome!
Thank you for choosing to book The Square. We look forward to welcoming you here, and we will do all we can to ensure that you have a truly happy and relaxing stay.
However, it is important to note that, however personal and friendly the relationship between us both will be, when you book and when we accept your booking we are entering into a contract with each other.
There are no nasty surprises within our Terms and Conditions (although we have recently been advised to add a clause about WiFi security). However, please read them carefully before making your booking and thus entering into a contract with us.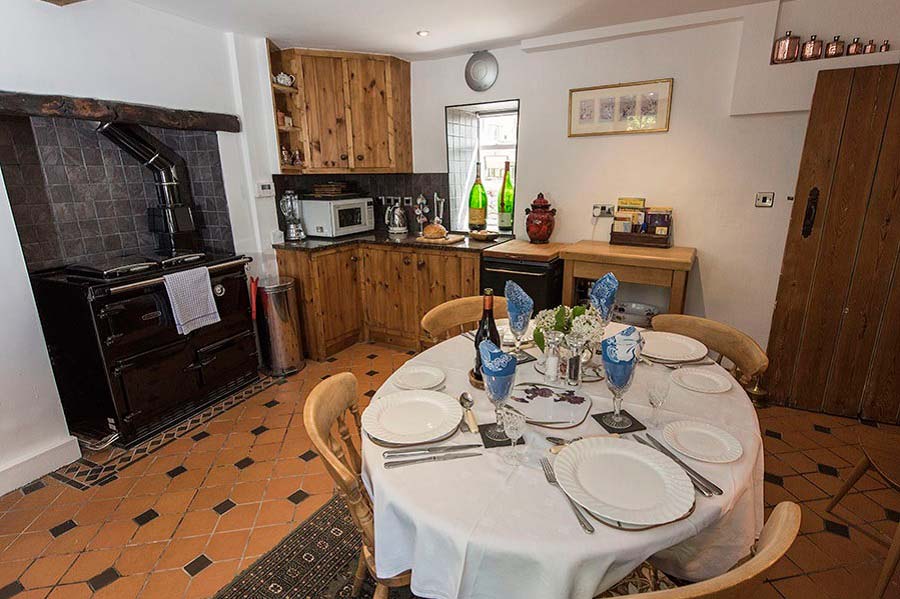 Our Kitchen
We, the owners of The Square, are entering into a contract with you, the named person/four people making the booking: we agree to provide you with the holiday dates and prices as agreed between us and you agree to pay us the agreed price for the holiday you are booking.
By agreeing to our Terms & Conditions you confirm that you have read, understood and do accept our Terms and Conditions.
---
Contract
A contract only arises when:
we formally confirm your booking in writing via a personal letter of confirmation sent by email or post
and

we have received the £100 deposit (or the full amount due if the holiday is within the next six weeks) and details of your permanent address.
The contract includes only those identified individuals we have agreed will be within your party for your stay. Substituted or additional guests do not form part of the contract unless agreed with us, in writing, prior to your arrival.
You have a legal 14-day 'cooling off" period when you may cancel without obligation before the contract becomes firm.
---
Bookings and Payments Contract
Email and Telephone Booking requests
We shall be delighted to hear from you with booking enquiries by email or by phone. We shall respond quickly to your initial enquiry.
If you wish to pay by cheque, we will take your name and address and other relevant details, then withdraw the dates from availability for up to four days while we wait for your deposit payment to arrive. As soon as your cheque arrives & clears we will confirm the booking.
Booking within 6 weeks of the holiday start date.
For holidays, which are to take place within 6 weeks of making the booking, the full balance is due on booking.
Booking a last-minute availability
In the case of a last-minute booking, we would need to receive full payment by cheque or Internet bank transfer before your arrival.
---
Payment
We accept cheques and Internet Banking transfers (BACS). We can supply overseas visitors with our bank account BIC and IBAN details. Please note that the bank levies a fee on such transfers.
All-inclusive price
The price we charge is fully inclusive of electricity, central heating, some firewood, hot water, towels, linen and duvets and all the 'little extras' we provide. In the normal course of events there are no extra costs due to us, except:
Pets : The cost per pet is £25 per week/short break, added to the total fee for your holiday.
Telephone calls made by you on our landline: We have an 'honesty jar' by the telephone.
Deposit
The deposit for all bookings is £100, necessary to secure the booking.
Final payment
The outstanding balance will be due six weeks (42 days) before the start of your holiday.
When we receive your payment of the balance, we will acknowledge receipt, and send you directions how to get here, and some local information.
Cancellation
If, for whatever reason, you cannot take your holiday you are still liable to pay for the booking in full, even if we have not yet received your balance.
If you do need to cancel, please inform us as soon as possible, if initially this is by telephone, please confirm your intention to cancel in writing.
We would do our very best to re-let the dates, and if successful would not demand payment from you of the balance due. If payment had already been made, we would refund you (the probably discounted) final amount received for the dates. In both situations, we would charge a token £10 administration fee.
Please note that your deposit is not normally refundable but we would use our discretion in genuine cases of unforeseeable personal situations that have arisen.
Holiday Cancellation Insurance
Whatever the reason for the cancellation the full amount for the holiday is still due to us.
We strongly recommend that you take out holiday cancellation insurance.
Non-Availability of Accommodation
We would only cancel your holiday if your accommodation were unavailable for reasons beyond our control. We would attempt to offer you alternative accommodation, however if this was not possible, or unacceptable to you, then we would refund all monies paid by you for the holiday.
Our liability would not extend beyond this refund.
---
Dogs and other Pets
We accept well-behaved pets.
There is an extra charge per pet per short break/week.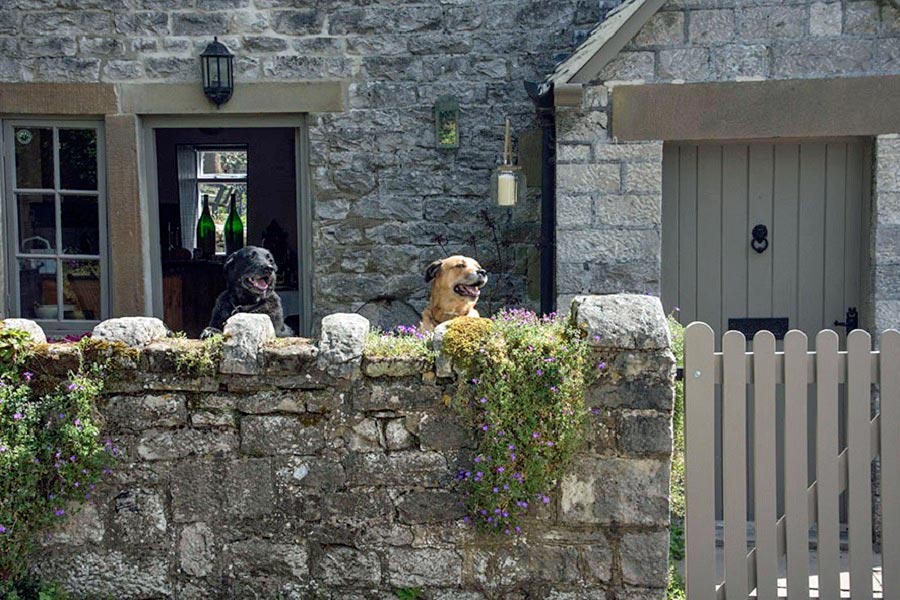 Dogs at The Square, Parwich
Please note that we do have an enclosed garden, across the road.
We also ask that dogs never be allowed upstairs or on the furniture The owners of pets in The Square are responsible for ensuring their pets do not cause damage to the property or unreasonable annoyance to our neighbours. We keep a supply of "poo bags" in the house and these should be disposed of in any of the several dedicated bins located around the village.
---
Visitors, parties and groups larger than those staying at the Square.
The Square, including its garden, should not be used for parties or social gatherings for numbers larger than those staying at the house, without prior specific written agreement with us.
---
Damages and breakages
You are responsible and liable for any breakages or damage that you cause to the accommodation or its contents. Please let us know if any are incurred, either by recording it in the book in the kitchen, or by email.
Minor breakages: Using our discretion, we do not normally charge for what we consider to be minor breakages.

Major breakages or damage: We may send you an invoice for replacement, repair or making good if the damage or breakage is, in our estimation, significant.
---
Liability
We do not accept any liability for any damage, loss or injury to any member of your party or any vehicles or possessions, unless proven to be caused by a negligent act by ourselves or our employees or contractors whilst acting in the course of employment.
---
Arrival & Departure
3 pm Arrival Time
The Square will be ready for you from 3pm on the day of arrival.
If you wish to arrive earlier, just to park the car then disappear, it can be arranged by prior agreement that you do so! You are then free to go for a walk, out for lunch etc, before returning at 3pm or later to unpack and move in.
10 am Departure Time
We ask you please to leave your barn by 10am on the day of departure. Again, we will always try to be a little flexible if other bookings allow.
---
WiFi
We provide free wireless internet access for your use.
Please understand that we are the legal owners and ultimately responsible.
Please do not view, email or download anything you would not wish us personally to know about or find ourselves financially and/or legally responsible for, i.e. anything illegal, offensive, pornographic or otherwise unlawful or inappropriate.
---
Data Privacy Statement
We treat any data collected during the course of dealing with bookings and enquiries in strict confidence. This data is kept on our home computer. We will never pass it on to any third party.